WINEMAKING FACILITIES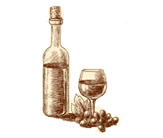 The United Winemaking Agricultural Cooperative of Samos has two important winemaking facilities, each one with its own history.
The Winery in Malagari, on the main boulevard next to the sea,  accomodates the vine-growers of the eastern side of Samos. The main Administrative Services are also housed in Malagari.
The Winery in Karlovassi accomodates the vineyards that extend to the northern part of the island. In the wine cellar at the entrance of the winery of Karlovassi, there is a small exhibition area that displays important artifacts from the historic vinegrowing in the area.
In the main entrance at the winery of Malagari, one can find the Samos Wine Museum, which was inaugurated in 2005 and one can see great exhibits for the island's wine history.
MUSEUM OF SAMOS WINE
The Museum of Samos Wine is housed in a magnificent 19th-century stone building, which originally operated as a private winery and later as a warehouse and barrel-making facility.
Turned into a Museum in 2005, it displays artifacts of the defining history of Samos wine: old photographs and production records, vineyards and depiction of mountain terraces, manual labor, harvesting and manual presses, aging and vinification, cellars, collectible bottles, , barrel-making tools, old winemaking machinery as well as a series of awards and distinctions.
Its layout, a result of modern museum science, travels the visitor to the traditional vineyard cultivation of Samos. The exhibits tell the tale of the entire historical, social and cultural course of the Samian wine.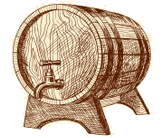 Traditional winemaking, tools, tanks, laboratory instruments, barrel-making tools, come alive through exhibits that go back over more than a century. Of particular interest is the depiction of the cultivation of the vineyards in dry-stone terraces. The huge wooden tanks, the most imposing exhibits, were in use until a few decades ago.
The Wine Museum is open to the public while wine tasting is also available. There is also a fully equipped conference room.
From November to April, the UWCS Museum of Samos wine will open for ORGANIZED VISITS by groups.  The visits are prearranged and booked at tel.: +30 22730 87510 (ext. 539).
During that time, wine purchases can be made at the WINERY.